Apple's new iPhone 15 Pro and iPhone 15 Pro Max will begin arriving to customers and launch in stores this Friday, September 22. Ahead of time, the first reviews of the devices have been shared by select media outlets and YouTube channels.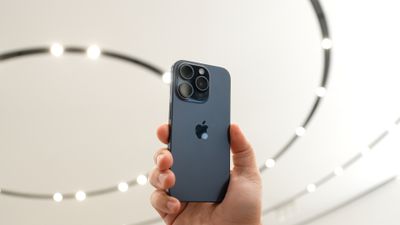 Key new features of the iPhone 15 Pro models include a USB-C port, lightweight titanium frame, customizable Action button, faster A17 Pro chip, an increased 8GB of RAM, thinner bezels around the screen, and several camera improvements, including an upgraded Telephoto lens with up to 5x optical zoom on the Pro Max model.
We've rounded up both written and video reviews of the iPhone 15 Pro models below.
Written Reviews
The Verge's Allison Johnson on the USB-C port:
I know we all have a lot of mixed feelings about USB-C, but let me tell you about a beautiful thing that happened: the 15 Pro Max's battery was low, so I unplugged the USB-C charging cable from my MacBook Air and plugged it right into the phone. No searching for another cable. No dongles. Just a USB-C charger powering a USB-C iPhone.
Johnson says the Action button can function as a physical shutter button when the Camera app is open:
I set the Action Button on the 15 Pro Max to open the camera, which I thought I'd really like. It even acts as a shutter when you use the Action Button to open the camera, and I love a physical shutter button. But it's a bit of a reach, and after the first week, I'm not finding it any easier than swiping the homescreen to launch the camera and pressing the volume down button to snap shots. I have some other ideas for the Action Button, though, and the beauty is you can experiment with it until you find something you like.
CNBC's Kif Leswing on the titanium frame:
Apple says that the 6-inch iPhone 15 Pro is 187 grams, or 9% lighter than last year's model. The iPhone 15 Pro Max, with a bigger 6.7-inch screen, weighs 8% less. But in practice, it feels like an even bigger reduction. Going back to my old iPhone 14 Pro, it feels like a brick. The weight difference between this year's Pros and last year's is noticeable even with a case.
Tom's Guide's Mark Spoonaeur on battery life:
On our battery test, which involves continuous web surfing at 150 nits of screen brightness, the iPhone 15 Pro lasted 10 hours and 53 minutes. That's 40 minutes longer than the iPhone 14 Pro and nearly 2 hours longer than the Pixel 7 Pro. We consider 11 hours or more to be excellent.
TechCrunch's Matthew Panzarino on the iPhone 15 Pro Max's new 5x optical zoom capability:
And we haven't even started talking about the 120mm tetraprism-enabled 5x telephoto lens. This thing is an incredible achievement in every way. It doesn't just work, it's probably the best camera Apple has ever made.
An example of a photo shot at 5x by Panzarino: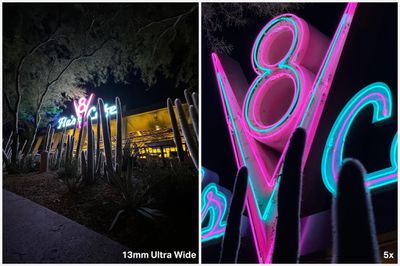 Image Credit: Matthew Panzarino
Video Reviews