Apple today updated its Final Cut Pro, Motion, Compressor, and iMovie apps for the Mac with support for log-encoded video shot on iPhone 15 Pro models.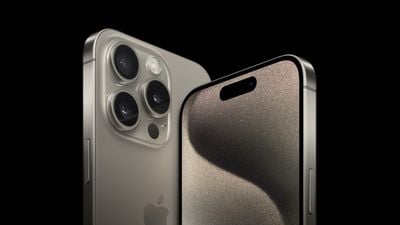 On the iPhone 15 Pro and iPhone 15 Pro Max, you can choose between HDR, SDR, or Log color encoding when recording ProRes video. Log footage typically has a higher dynamic range and more color grading flexibility than linear footage.
Apple also updated Final Cut Pro for the iPad with the same support.
Popular Stories
iOS 17: 10 New Features That Just Launched
In June, Apple announced iOS 17 with a wide range of new features and changes for the iPhone. Following over three months of beta testing, the free software update will be released this Monday, September 18 for the iPhone XS and newer. Below, we have recapped 10 key features coming to the iPhone with iOS 17, with additional features coming later this year. The update should be released to…
iPhone 15's USB-C Port: 4.5W Charging for Accessories, USB 3.2 Gen 2 for Pro Models, and More
In a support document published on Friday, Apple provided some additional details about the USB-C port found on all iPhone 15 models. First, Apple said all iPhone 15 models can charge an Apple Watch, AirPods case, or other small accessories connected to the USB-C port at up to 4.5W. Apple already announced this capability, but it had not provided the wattage information. Second, the…
Some iPhone 15 and iPhone 15 Pro Pre-Orders Now 'Preparing to Ship' Ahead of September 22 Launch
Apple this morning began accepting pre-orders for the iPhone 15, iPhone 15 Plus, iPhone 15 Pro, and iPhone 15 Pro Max, and now just hours later, the first orders have moved into the "preparing to ship" phase as Apple prepares to send the new iPhones out to customers. Customers in the United States should soon be able to begin tracking their orders through the UPS My Choice feature, or…
iPhone 15 Battery Capacities Revealed in Regulatory Database
Apple does not advertise battery capacities for its new iPhone 15 lineup, but MySmartPrice has obtained this information from a Chinese regulatory database. The Chinese regulatory listing reveals that the iPhone 15 has a 3,349mAh battery (rated capacity) and a wattage of 12.981Wh, while the iPhone 15 Pro has a 3,274mAh battery and a wattage of 12.70Wh. Battery capacities for the full…